Reading Time:
4
minutes
How to Choose the Best Sit on Top Kayak Under $500
If you are in the market for a good quality kayak and wish to save some money, you need to know the best sit on top kayak under $500.

This article discusses the many different types of sit on top kayaks available. We will include the pros and cons of each type, as well as what you should look for when buying your next kayak.
Types of Sit-on-top Kayaks for under $500
The cheapest kayak you can buy is the sit-on-top kayak, which is generally great for beginners. In the future, you can upgrade to the more expensive sit-in kayak models.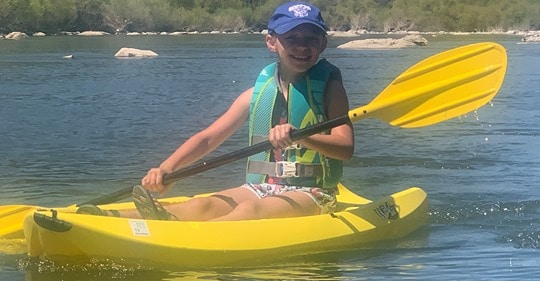 Sit on top kayaks are super easy to maneuver. I mean, it's like you're just sitting on top of a flat board and you'll wonder if you are going to sink. Especially when you see the little scupper holes between your legs.
But they won't sink no matter what you do so relax. Get used to staying centered over the center of the kayak. Paddle smoothly from side to side so as not to rock back and forth too much.
I have tried both sit in and sit on top kayaks. Personally, I prefer the sit-in kayaks because I feel more protected and secure on the water. But I also wouldn't paddleboard for the same reason.
As funny as it may sound, I fully intend on staying dry when I go kayaking. I only get my feet wet if we get out and explore somewhere on the river. Otherwise, I prefer staying dry.
I don't get that guarantee in a sit on top or paddleboard. But this article is about sit-on-top kayaks so let's keep going.
Most affordable kayak for under $500
Lifetime Youth Wave Kayak with Paddle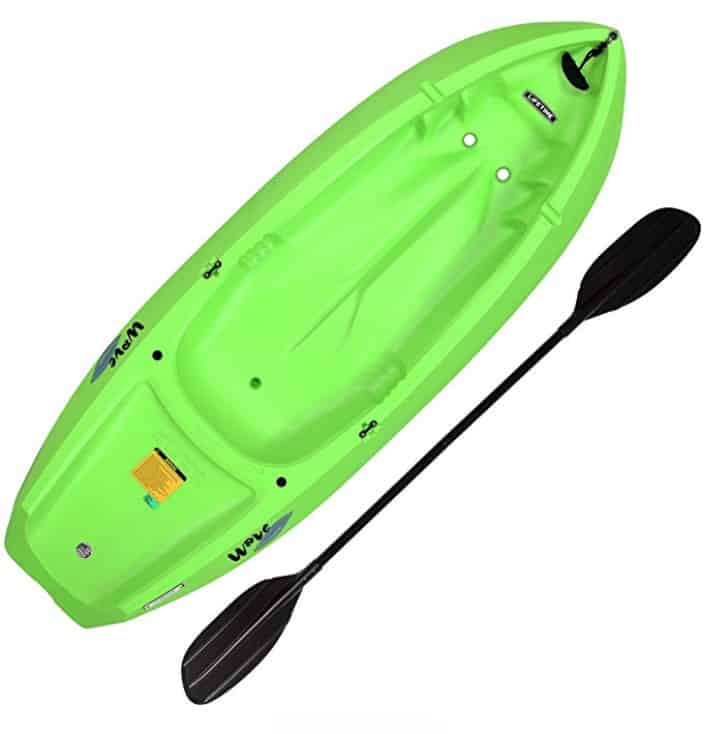 This is the same one you see up top that Lily is paddling. I've already mentioned the price. It is well below $500 and because of this low price, it is the favorite on Amazon and other brick and mortar stores.
It is the only kayak in this price range with a full five-star rating on Amazon. Definitely a great starter kayak.
It even includes the paddle! Just don't forget to pick up a life jacket.
Best two-person sit-on-top kayak under $500
Lifetime 10 foot, two-person tandem with paddles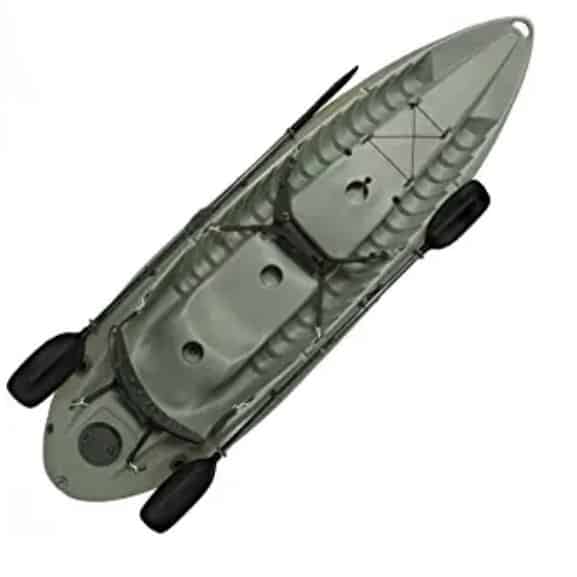 Again, Lifetime produces another winner. Coming in right around the $500-ish mark, this sturdy kayak has a very high rating and is the second most popular sit on top tandem on Amazon.
This one, too, comes with paddles for both tandem seats.
Where to buy the best sit on top kayak for under $500
You can get a simple sit-on-top kayak at any sporting goods store like Dick's or Big 5. You can also get them at big box stores like Walmart. The yellow one above that we got for Lily was only $79 when we bought it.
So they can be affordable if you watch for sales. And they are darn near indestructible at that. So don't worry too much about tearing it up.
Even if they warp for some reason, you can straighten them back out with a heat gun or by laying it out in direct sunlight all day. Here's an article about how to take care of your kayak if you need more information.
We really love our Lifetime sit on top kayak. Although they are smaller, these kayaks have the added benefit of being able to navigate where bigger kayaks simply won't work. Like behind waterfalls and in coves.
A major advantage of the Lifetime sit on top kayak is that they are often more affordable than the more expensive models.
In fact, a lot of people who buy them for recreational purposes have no intention of purchasing an ocean kayak. They prefer to buy a more sensible type that is easy to pack and maneuver.
You also have the option of buying a paddle kayak rather than a stand-up paddle kayak (also called a paddleboard.) A stand-up paddle kayak has the advantage of being easier to move around in the water, but they are very awkward and difficult to handle.
Conclusion
With all the options out there for a sit on top kayak, you can find the perfect one that meets your needs.
Just keep in mind that what you're looking for should fit into your budget, as it can get pretty expensive to get an expensive kayak.
Some things to consider when you're looking for a kayak include:
the amount of time you plan on spending out on the water,
the kind of environment you are going to be working in,
the amount of money you have available, and
what your skill level is.
Some people prefer a slower paddle or more powerful motor, while others prefer to get more out of their kayak.
If fishing kayaks are more your thing, check out this video on the 5 best fishing kayaks under $500.